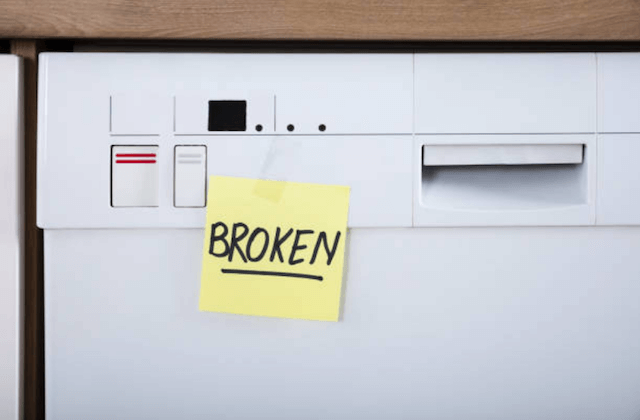 CALL TODAY:
(281) 915-4793
There is no reason for you to put up with the inconvenience of a broken dishwasher, wash dishes by hand, or let the dirty dishes pile up in the sink. When your dishwasher breaks down, call us at Houston Appliance Repair NOW! for same-day service.  We will send a certified and experienced repairman with the necessary tools and parts to check out your dishwasher and fix the offending part or replace it on a single, efficient service visit.
We appreciate how inconvenient it is to have a dishwasher that does not do its job, so we pride ourselves in fast, competent, friendly, and professional service.
DISHWASHER PROBLEMS
CONSTANT/LOUD NOISES
Call us when your dishwasher starts making loud noises. The noise is because the pump housing is broken, the motor bushing is damaged, or the washer arm bearing is shot.  We need to fix these or the next thing that will happen is that your washer will be very quiet and not working at all. Call us for same-day, fast and efficient repairs.
LEAKING WATER
As soon as you finish mopping up the water from your leaking dishwasher, call us for same-day repairs. We will have to replace the door latch, which is the most frequent reason for dishwasher leaks or we will need to repair a water inlet valve that has failed. We carry the parts and tools to deal with leaks for Whirlpool, Kenmore, GE, and other major dishwasher brands.
WON'T TURN ON
The first thing to do if your dishwasher does not start is to make sure it is plugged in and that the circuit breaker is turned on. If these are OK and it still will not start, you have a burned out thermal fuse, malfunctioning electronic control, damaged motor relay, or a broken door latch. We will fix any of these on the spot and the same day that you call.
WON'T DRAIN/FILL
A dishwasher needs to fill with water to wash and rinse the dishes and then drain the water in order to dry them. When your dishwasher does not fill, it has a broken door switch, damaged float switch, or the water inlet valve is broken. The dishwasher won't drain when the drain hose is damaged or the drain pump motor is broken.
WON'T CLEAN DISHES
When the dishes do not come out clean, your dishwasher has a problem even if it seems to be working fine. In this case, we will find a problem with the spray arm, water tube, or housing gasket. At Houston Appliance Repair NOW! we carry manufacturer parts for repairs for each of these dishwasher problems.
WON'T DRY DISHES
When your dishwasher is not getting the dishes dry, don't start drying by hand. Call us for same-day repairs. The usual problems are broken heating elements, rinse aid dispensers or the thermostat. We can make repairs or replace any parts whose malfunction causes this problem.
WON'T DISPENSE DETERGENT
Another reason that your dishwasher is not getting the dishes clean is that it will not dispense soap or detergent. In this case, the problem is with the wax motor, timer, or the bi-metal release which is probably broken. We can fix these problems on the spot on a same-day visit.